November 28, 2012 § Leave a comment
Cizewski, Lovetere, Musbach, & Robinson Families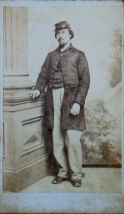 Anson Croman, 20th Michigan Infantry Regiment
Union soldiers held a variety of opinions about the future of slavery, civil rights for African-Americans, and the equality of all people.
However, they may have been near unanimous about one issue.
Once a state entered the union, they could not leave.
Allowing secession because the losing side in a presidential election was dissatisfied with the results would end one of the world's only republican democracies at that time.
The Constitution provides for elections for Federal offices every two years. Both 150 years ago and today the constitutional remedy is not secession but working to do better in the next election.
Anson Croman was probably very proud that his service in the Civil War settled the secession issue for as long as our nation exists. He would have no use for the modern Texas secession movement.
---
The Texas secession movement disrespects:
View original post 424 more words
November 19, 2012 § Leave a comment
Cizewski, Lovetere, Musbach, & Robinson Families
Daniel Day Lewis as Abraham Lincoln visiting a battlefield outside of Peterburg, Virginia, April 3, 1865.
Steven Spielberg's Lincoln depicts Abraham Lincoln entering Petersburg, Virginia on April 3, 1865 shortly after it had been captured by units including Anson Croman and the 20th Michigan Infantry Regiment.
The battlefield through which President Lincoln rides is southwest of where Anson Croman and the 20th Michigan had been stationed for much of the siege of Petersburg and where they had been involved in heavy fighting since March 25.
The movie continues to April 9 and the Confederate surrender at Appomattox. At that time Anson Croman's and the 20th Michigan were southeast of Appomattox with other units protecting the Union's southern flank and rebuilding the railroad to supply the Union army.
---
Leonard's review:
This is such a well made movie with great acting that all should appreciate it. The historical accuracy and clarity…
View original post 56 more words