July 4, 2012 § Leave a comment
Cizewski, Lovetere, Musbach, & Robinson Families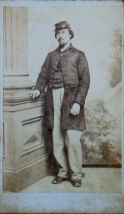 Anson Croman
July 29 is the 150th anniversary of our Civil War ancestor Anson Croman's 1862 enlistment into Company F of the 20th Michigan Volunteer Infantry Regiment. He enlisted at Marshall, Michigan for three years.
At the time, Anson lived in Waterloo, Michigan. The regiment was organized at the county seat in Jackson.
Anson stated he was 18, the legal enlistment age. Since he was born in December, 1844, he was actually 17 years old and was five months shy of 18.
He reported for duty on August 18, 1862.
Enlistees in mid-1862 seemed to be motivated by a patriotic desire to preserve the Union rather than for enlistment bonuses. While enlistees had mixed feelings about the abolition of slavery, race relations and civil rights for African-Americans, most did not want their free labor to be in competition with slavery.
Anson Croman's daughter Susie married Jakob Musbach's (German spelling:…
View original post 26 more words